Vérités officielles ?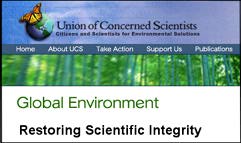 Déformer systématiquement les faits scientifiques pour les mettre au service de la politique de la Maison-Blanche : tels sont les faits qu'une soixantaine de chercheurs de haut rang, dont douze Prix Nobel, reprochent à l'administration de George W. Bush. « D'autres administrations s'étaient à l'occasion laissées aller à de telles pratiques, mais pas de façon si systématique et sur un front aussi large ».
Dans un rapport de 46 pages publié par l'Ucs (Union of Concerned Scientists – l'union des scientifiques inquiets) le mercredi 18 février 2004, et intitulé Scientific Integrity in Policymaking. An Investigation in the Bush Administration Misuse of Science, (L'intégrité scientifique dans la décision politique. Une enquête sur l'utilisation frauduleuse de la science par l'administration Bush), ces chercheurs font la liste des « distorsions » dont l'administration Bush s'est rendue coupable : manipulations des données concernant les changements climatiques, mensonges et omissions dans les domaines de la sécurité nucléaire et de la santé publique, évictions d'experts scientifiques qualifiés au profit de personnalités peu qualifiées mais représentant les industries liées aux lobbies républicains, refus de sollicitation de scientifiques indépendants sur des questions stratégiques, etc.
On peut ainsi lire sur l'une des pages du site de l'Ucs : « The United States has an impressive history of investing in the capabilities and respecting the independence of scientists. This legacy has brought us sustained economic progress, science-based public health policy, and unequaled scientific leadership within the global community. However, actions by the Bush administration threaten to undermine this legacy, and as a result, policy decisions are being made that have serious consequences for our health, safety, and environment.
Across a broad range of issues — from childhood lead poisoning and mercury emissions to climate change, reproductive health, and nuclear weapons — the administration is distorting and censoring scientific findings that contradict its policies ; manipulating the underlying science to align results with predetermined political decisions ; and undermining the independence of science advisory panels by subjecting panel nominees to political litmus tests that have little or no bearing on their expertise ; nominating non-experts or underqualified individuals from outside the scientific mainstream or with industry ties ; as well as disbanding science advisory committees altogether ».
« Scientific Integrity in Policy Making » : la page principale de téléchargement du rapport : présentation d'ensemble du rapport, liens vers les téléchargements en .pdf etc…
Téléchargement direct du rapport complet (46 pages en anglais) en .pdf.
Téléchargement du résumé du rapport (3 pages en anglais) en .pdf.
« Restoring Scientific Integrity » : une des pages de présentation de l'Ucs proposant des liens vers les autres activités du groupe.
La page d'accueil du site de l'Union of Concerned Scientists
Déformer systématiquement les faits scientifiques pour les mettre au service de la politique de la Maison-Blanche : tels sont les faits qu'une soixantaine de chercheurs de haut rang, dont douze Prix Nobel, reprochent à l'administration de George W. Bush. « D'autres administrations s'étaient à l'occasion laissées aller à de telles pratiques, mais pas de façon […]
« Vérités officielles ? », EspacesTemps.net [En ligne], In brief, 2004 | Mis en ligne le 20 February 2004, consulté le 20.02.2004. URL : https://www.espacestemps.net/en/articles/verites-officielles-en/ ;