Public Space Democracy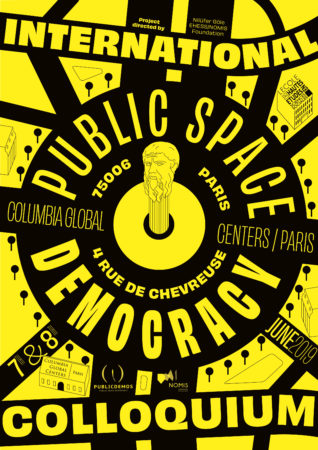 The public space regains a vital function for democracy in the age of globalization and digital communication. PublicDemoS Project explores the ways in which Public Space allows the appearance of actors and manifestation of cultural differences. New forms of public agency and visibility extend politics to everyday life experiences, opening up avenues for artistic expressions and creative accommodations. A transversal and intercultural approach opens up new ways of thinking politics, modes of empowerment of citizens and creation of commons. In multicultural settings, the democratic agendas are renewed by politics of performative citizenship and public making.
Project directed by Nilüfer Göle EHESS/NOMIS Foundation
Friday June 7
9.30 Welcoming Coffee
10.00 Nilüfer Göle : « Why Public Space Matters ? »
Panel 1 : Revisiting Public Space
10.30 Craig Calhoun: « Public Space and Democracy »
11.00 Charles Taylor: « Fragmentation of Public Sphere in the 21th Century »
11.30 Coffee Break
12.00 Cemal Kafadar: « Meydan in Ottoman-Turkish Public Life and in Poetry »
12.30 Dilip Gaonkar: « Just Show UP: Democracy and the Politics of Appearance »
13.00 Discussion
13.30 Lunch
Panel 2: Forms of Visibility and Agency
14.30 Boyan Znepolski: « What Theory for the New Protest Movements? On the perspectives of Mouffe, Žižek and Butler »
15.00 Pablo Ouziel: « Democracy Here and Now: The Exemplary Case of Spain »
15.30 Coffee Break
16.00 Daniel Gamper: « Democracy and Protest in Catalonia: The Case for and Against Independence »
16.30 Christine Landfried: « The Social Conditions of Public Space in Europe. Learning from the Théâtre du Soleil »
17.00 Discussion
Saturday June 8
Panel 3: Memory and Publics
10.00 Clifford Chanin: « Collective Intimacy: The Memory of 9/11 »
10.30 Erdağ Aksel: « Art for Demos: Who's Choice? « 
11.00 Coffee Break
11.30 Parand Danesh: « Martyr Iconography in Post-War Iran »
12.00 Nazlı Temir: « Emergence of Plural Memories in Public: The Armenian Cultural Heritage and Architecture in Turkey »
12.30 Discussion
13.00 Lunch
Panel 4: Art and Norm Conflicts
14.00 Peter DeSouza: « From Celebrated Artist to Villain: The Paintings of MF Husain »
14.30 Camil Ungureanu: « Nihilism, Religious Fantasy, and Humor in Michel Houellebecq's "Submission" »
15.00 Coffee Break
15.30 Jeannette Jouili: « Responding to the Call: Debating British Muslim Culture in the Age of Counter-Terrorism »
16.00 Nadia Fadil: « Theatre and the Charges of Complicity of Terrorism »
16.30 Misal Adnan Yildiz: « Monolanguage of the State. The Silence in the Park »
17.00 Discussion
17.30 Concluding Remarks
List of Participants
Nilüfer Göle, Professor of Sociology, CESPRA, EHESS
Craig Calhoun, University Professor of Social Sciences, Arizona State University.
Charles Taylor, Emeritus Professor of Philosophy, McGill University.
Cemal Kafadar, Professor of Turkish Studies, Harvard University.
Dilip Gaonkar, Professor in Rhetoric and Public Culture and the Director of Center for Global Culture and Communication at Northwestern University.  Boyan Znepolski, Associate Professor, Department of Sociology, Sofia University.
Pablo Ouziel, Visiting Postdoctoral Scholar at University of Victoria.
Daniel Gamper, Lecturer in Moral Philosophy and Ethics at the Autonomous University of Barcelona. Christine Landfried, Emeritus Professor of Political Science at the University of Hamburg and Senior Fellow at the Hertie School of Governance.
Clifford Chanin, Executive Vice President and Deputy Director for Museum Programs at the National 11 September Memorial & Museum.
Erdağ Aksel, Professor of Art at Sabancı University 
Parand Danesh, PhD Candidate at CESPRA, EHESS.
Nazlı Temir, Sociologist and Lecturer, INALCO.
Peter DeSouza, Professor at Center for the Study of Developing Societies (CSDS).
Camil Ungureanu, Associate Professor of Political Philosophy and Coordinator of the MA in Political Philosophy at the Universitat Pompeu Fabra.
Jeannette Jouili, Assistant Professor of Religious Studies, University of Pittsburgh.
Nadia Fadil, Assistant Professor of Migration, University of Leuven.
Misal Adnan Yıldız, Berlin based artist.
The public space regains a vital function for democracy in the age of globalization and digital communication. PublicDemoS Project explores the ways in which Public Space allows the appearance of actors and manifestation of cultural differences. New forms of public agency and visibility extend politics to everyday life experiences, opening up avenues for artistic expressions […]
« Public Space Democracy », EspacesTemps.net [En ligne], Brèves, 2019 | Mis en ligne le 6 juin 2019, consulté le 06.06.2019. URL : https://www.espacestemps.net/articles/public-space-democracy/ ;