Intermodal interactions via the screen (IMPEC 2020).
by Responsable éditoriale | 02.07.2020 20:45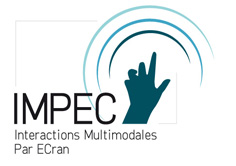 Dans la lignée du colloque 2018 qui avait examiné les relations entre corps et écrans, le colloque IMPEC 2020 (1-3 juillet 2020, ENS de Lyon) porte sur le thème des sensorialités. En effet, la question du sensible, en tant que ce qui peut être perçu par les sens, en relation avec les écrans, est au cœur de l'étude des expériences écraniques que le groupe IMPEC se donne comme premier objet d'investigation, qu'il s'agisse de situations de jeux, de travail, ou de tout autre situation de communication. Ces nouvelles relations peuvent être étudiées à partir des sous-thèmes suivants :
A/ Quel rôle jouent les cinq sens dans les interactions par/avec/dans les écrans ?
B/ Vers des sensorialités écraniques ?
C/ Comment les "sensorialités écraniques" sont-elles mobilisées et investies dans des interactions aux enjeux spécifiques ?
Conférences plénières
Palmyre Pierroux, Making sense(s) in virtual environments: Multisensory and embodied museum experiences
Paul Bruce McIlvenny, To screen or not to screen? Exploring transplanarity, volumetricity, hapticity and virtuality for video-based qualitative research
Carey Jewitt, Methodological experiments in touch across the arts and social science
Organisation et inscription
En raison de la crise sanitaire actuelle, le colloque IMPEC 2020 prévu du 1er au 3 juillet 2020 aura lieu entièrement à distance, par visioconférence. Par conséquent, il n'y a aucun frais d'inscription pour assister à distance à IMPEC 2020. Le comité d'organisation demande simplement une inscription gratuite mais obligatoire pour assurer à chacun l'accès à distance aux outils qui permettront la diffusion des contenus. 
L'équipe mettra en ligne quinze jours avant le colloque une grande partie des présentations pré-enregistrées des intervenants (cf. programme détaillé du colloque[1]). Elle assurera également les échanges en direct avec les intervenants entre le 1er et 3 juillet 2020. 
Pour assurer au mieux l'organisation d'IMPEC 2020 à distance, nous vous remercions de vous inscrire directement sur ce site web, au plus tard le 22 juin, via le formulaire d'inscription en ligne[2].
Sans inscription, nous ne pourrons pas vous donner accès aux contenus du colloque à distance.  Contact : Justine Lascar[3] En savoir plus : consulter l'espace dédié au colloque sur le site du Groupe IMEC[4]
Programme provisoire
Mercredi 1er juillet 2020 
14:00-14:30 Mots d'accueil / Webcam Opening 
Session 1 14:30-15:00
Plenary Speaker:Carey Jewitt– University College London Methodological experiments in touch across the arts and social science 
15:00-15:30 Pause-café commune / Collective Coffee break (discussion libre avec son café/thé dans une salle visio collective / open discussion with your coffee/tea in a collective videoconferencing room) 
Session 2a 15:30-16:50
15:30-16:30 15:30Cornelia Gerhardt, Saarland University, Does taste matter when replacing ingredients in recipes? – The construction of taste in vegan food blog commentary 
15:50Christelle Combe, Université d'Aix-Marseille, #foodporn et vlogue asmr ou comment faire saliver à l'écran ? 
16:10Nicolas Guichon,Jean Carteron, Université Lyon 2, « No pics, no dial ! » – La place de l'image dans les échanges de drague en ligne des étudiants internationaux gays 
Session 2b 15:30-16:50
15:30Heike Baldauf-Quilliatre, Biagio Ursi,Université Lyon 2, Université de Lorraine, Touching Screens How children learn gestures for playing with tablets together with their (grand)parents 
15:50Marion Giroux, Julien Barra, Christian Graff, Michel Guerraz,Université Savoie Mont Blanc, When my avatar's movements make me feel I am moving: from natural-like stimuli to fully artificial ones in virtual reality. 
16:10Ines Garmon, Université Paris-Sorbonne, Digitaliser le doigt. Les écrans tactiles rêvent-ils de viande humaine ?
Jeudi 2 juillet 2020 
Session 3  14:00-14:30
Plenary Speaker:Paul McIlvenny– University of Aalborg, To screen or not to screen? Exploring transplanarity, volumetricity, hapticity and virtuality for video-based qualitative research 
Session 4  14:30-15:00
ATELIER :Michela Ornati, Università della Svizzera italiana, University of Applied Sciences and Arts of Southern Switzerland, Surface Haptics and the Fashion Digital Experience 
15:00-15:30 Pause-café commune / Collective Coffee break (discussion libre avec son café/thé dans une salle visio collective / open discussion with your coffee/tea in a collective videoconferencing room) 
Session 5a 15:30-16:50
SYMPOSIUM : Sensorialités dans un séminaire doctoral hybride polyartefacté : méthodologie et points de vue
15:30Christine Develotte, Morgane Domanchin, Justine Lascar,ENS de Lyon, Université Lyon 2, CNRS, De l'analyse des interactions à celle des sensorialités : quelles méthodologies ? 
15:50Samira Ibnelkaïd, Université d'Oulu, Intercorporéité et matérialisation des sensorialités en interaction par écrans mobiles 
16:10Mabrouka El Hachani, Jean-François Grassin, Joséphine Rémon, Caroline Vincent, Université Lyon 3, Université Lyon 2, Université d'Aix-Marseille, La sensorialité au prisme de l'attention 
16:30Yigong Guo, ENS de Lyon, Témoignage d'une trajectoire sensorielle et cognitive d'un doctorant dans le séminaire Présences Numériques polyartefacté
Session 5b 15:30-16:50
15:30Caja Thimm, Patrick Nehls, Bonn University, Interface and Emotions: User experience as embodied interaction 
15:50Guillaume Giroud, Université Lyon 3, Toucher l'interface/Interfacer le toucher 
16:10Jacques Ibanez Bueno, Luis Felipe Ramírez Alvarado, Université Savoie Mont Blanc, Universidad Anáhuac México, The 360 videos as a methodology to study the relationships between senses and audiovisual contents 
16:30Morgane Domanchin, Université d'Oslo, Visitors' sensory experiences within a hybrid virtual architecture exhibition
Vendredi 3 juillet 2020 
Session 6 14:00-14:30
Plenary Speaker:Palmyre Pierroux– University of Oslo, Making sense(s) in virtual environments: Multisensory and embodied museum experiences 
Session 7 14:30-15:00
ATELIER :Aleksandr Fadeev, Alexandra Milyakina, University of Tartu, Multisensory learning environments. Research project 'Education on Screen'
15:00-15:30 Pause-café commune / Collective Coffee break (discussion libre avec son café/thé dans une salle visio collective / open discussion with your coffee/tea in a collective videoconferencing room) 
Session 8a 15:30-16:30 
15:30Aleksandr Fadeev, University of Tartu, Inner speech as semiotic mediation in multimodal learning
15:50Martine Gardille, Maria Antonietta Impedovo, Université d'Aix Marseille, Educational Virtual World as screen based uses of the senses: implications of body configurations 
16:10Joséphine Rémon, Martine Gadille, Caroline Corvasce,Université Lyon 2, Université d'Aix Marseille, Sensorialités et engagement de l'élève dans l'interaction pédagogique avatariale en collège virtuel 
Session 8b 15:30-16:30 
15:30Guylaine Gueraud-Pinet, Université Grenoble-Alpes, Quand la vidéo devient silencieuse : analyse sémio-historique du sous-titrage dans les productions audiovisuelles des médias en ligne français 
15:50Eleonora Acerra, Nathalie Lacelle,Université du Québec à Montréal, Manipulations narratives de l'écran : gestes, actions et conduites interprétatives 
16:10Natalia Pimonova,Université Paris 13, Le clip musical et l'interaction textovisuelle par écran 
16:30-17:00 Mots de la fin – Webcam Closing Session
Endnotes:
programme détaillé du colloque: https://impec.sciencesconf.org/data/pages/programmeIMPEC2020_V_3.pdf
formulaire d'inscription en ligne: https://impec.sciencesconf.org/registration
Justine Lascar: mailto:justine.lascar@ens-lyon.fr
site du Groupe IMEC: https://impec.sciencesconf.org/resource/page/id/61
Source URL: https://www.espacestemps.net/en/articles/intermodal-interactions-via-the-screen-impec-2020/
---